Summary
Not much has changed over the past week. Stocks continued to advance higher and market internals are still positive.
Given that market conditions have not changed much since last week's newsletter, I will focus today's newsletter on a longer-term view of the stock market.
Stock Market Price Action
Below is a chart of the S&P 500 going back to April of 2015. I believe we transitioned into a mini-bear market in August of last year. I call it a "mini" bear market because a bear market is typically defined as a drop of more than 20%. While the S&P 500 did not fall by that amount, many other indexes did.
While it does not matter what you call it, the market was in a period of weakness that lasted from August of 2015, when the S&P 500 dropped decisively below its 200-day moving average (notated by a red arrow on the left side of chart) until the first quarter of 2016.
That period of weakness was technically depicted by a 200-day moving average that was declining (long red arrow). In addition, each time price tried to advance above this moving average (red circles) it fell back down below it culminating in a final low in price hit in February of this year.
I believe we are now in a bull market that was signaled by a strong advance by the S&P 500 above its 200-day moving average (small green arrow). Further positive confirmation is seen in a rising moving average and two successful test of that average noted by the green circles.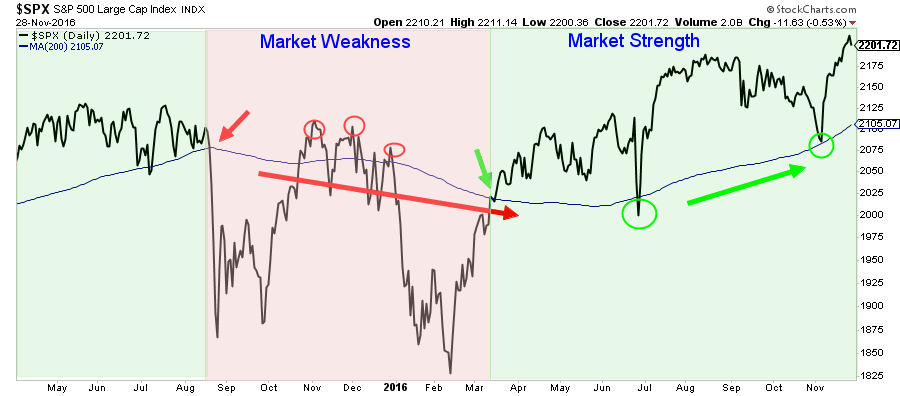 The Bottom Line
Bias: Positive for stocks and negative for most bonds.
Stock market price action is positive. While stocks are short-term overbought, and could pullback to some degree, a pullback would be viewed as a buying opportunity as long as the lows of early November are not violated.
Market internals are positive and odds favor higher stock market prices.
Client Update
TD Ameritrade accounts are between 35% – 55% invested in Stock Funds and about 30% in a Floating Rate Fund. I will be looking to continue to strategically reallocate client accounts to a more growth oriented allocation in the coming weeks.
---
Investors may lose 40% in safe bonds – and retirees are most vulnerable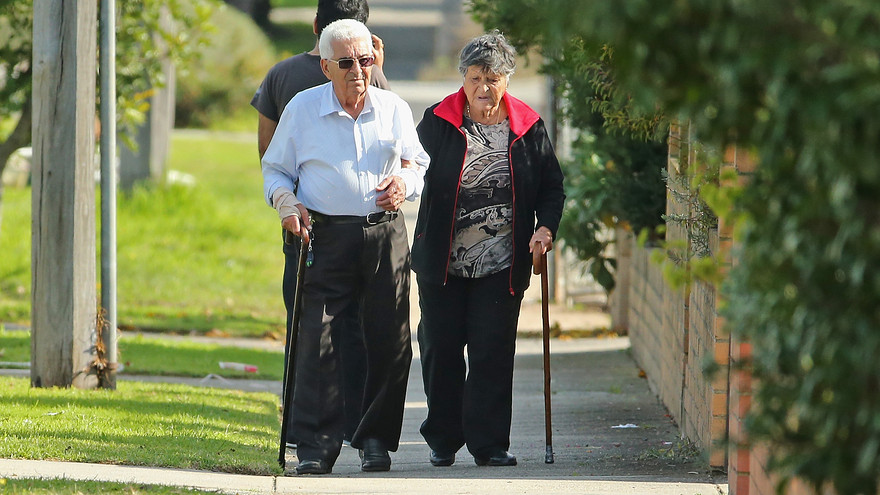 ---
If you have any questions, please feel free to contact me.
---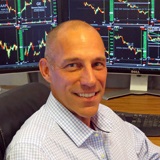 Craig Thompson, ChFC
Email: craig@assetsolutions.info
Phone: 619-709-0066
Asset Solutions Advisory Services, Inc. is a Fee-Only Registered Investment Advisor specializing in helping the needs of retirees, those nearing retirement, and other investors with similar investment goals.
We are an "active" money manager that looks to generate steady long-term returns, while protecting clients from large losses during major market corrections.
---
Asset Solutions is a registered investment adviser.  Information presented is for educational purposes only and does not intend to make an offer or solicitation for the sale or purchase of any specific securities, investments, or investment strategies. Investments involve risk and unless otherwise stated, are not guaranteed. Be sure to first consult with a qualified financial adviser and/or tax professional before implementing any strategy discussed herein. Past performance is not indicative of future performance.