Market Update
House of Cards , I believe the stock market is in the process of rolling over. Support that was created last month was violated this past week. The next level of major support are the lows of August-September which is 6-7% below Fridays close.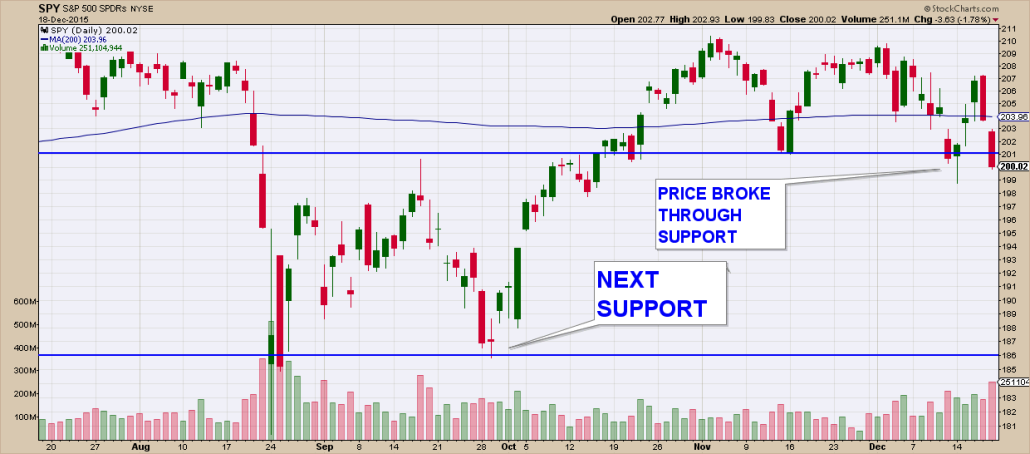 Market breadth has been deteriorating for the past 18 months as shown by the chart below. The top chart is the S&P 500 ETF (SPY) and the bottom chart is the number of stocks above their 200-day moving average.
As you can see in the bottom chart, market breadth has been steadily falling as the market has been advancing or flat. This is a very bad sign!
The market cannot continue to go up if the number of stocks that are falling is increasing.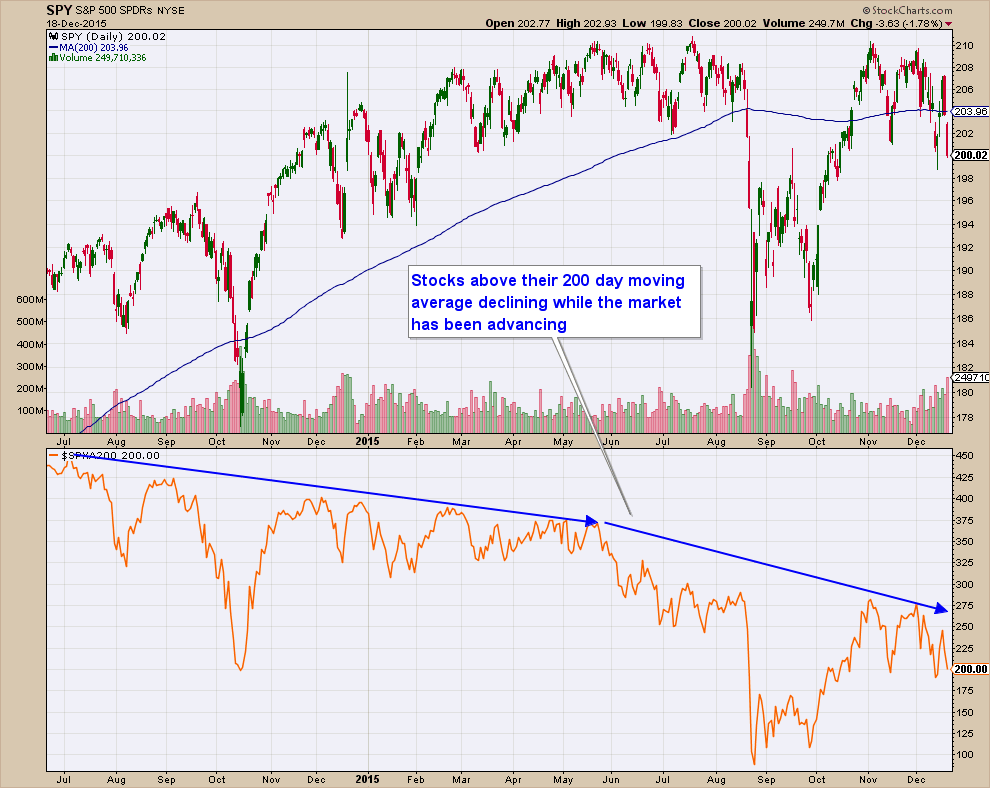 In my newsletter two weeks ago: Dark Clouds On The Horizon Click to view, I compared a chart of the VIX right before the 2008 bear market with a current VIX chart, and they look eerily similar.
Over the past 5 months the market has basically moved sideways, but the VIX keeps progressively moving higher. This is sign that investors are steadily becoming more fearful of a market fall and are thus more apt to sell.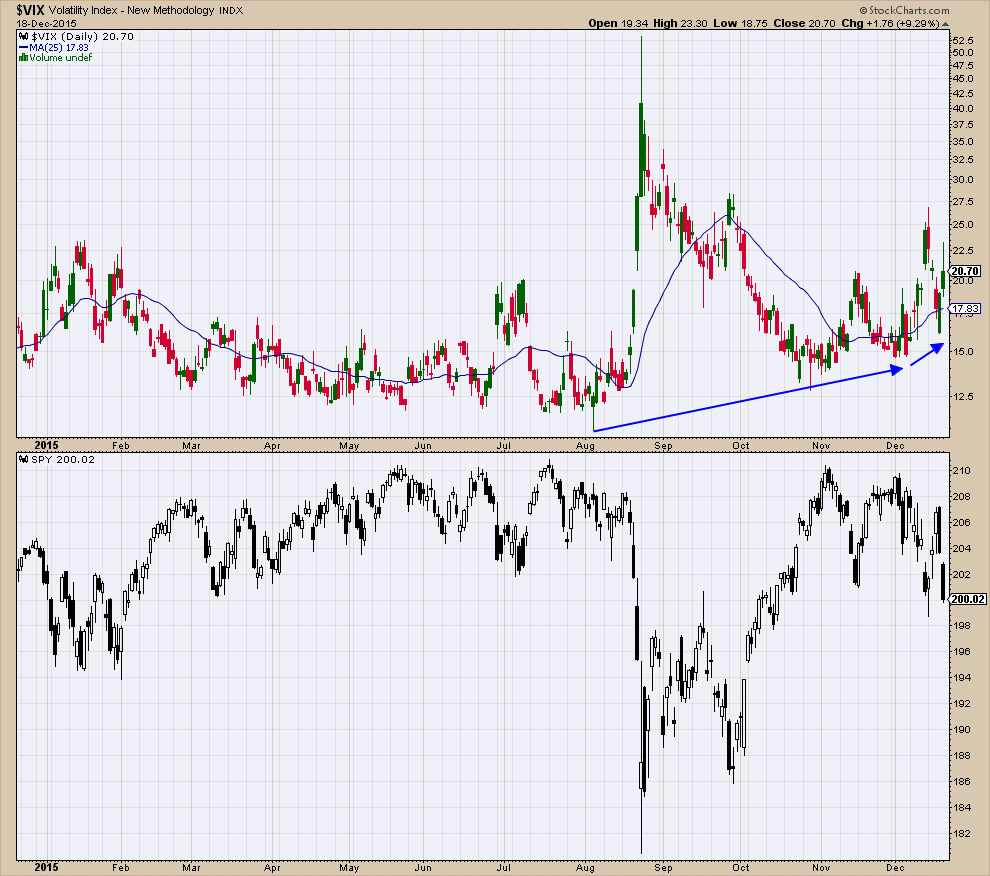 The combination of a thinning market and an increasingly fearful pool of market participants is a recipe for a market that is at risk of falling substantially.
Even if we enter into a bear market, I see opportunity. There should be an opportunity to buy stocks at much lower prices and without the massive downside risk that is currently present.
Also, an asset class that looks poised to advance as the market falls is Treasuries. Below is a chart of TLT (a Government Treasury ETF). It has formed a very large wedge pattern and I believe the odds favor an upside break that could be assisted by a flight to quality that would probably accompany a market correction.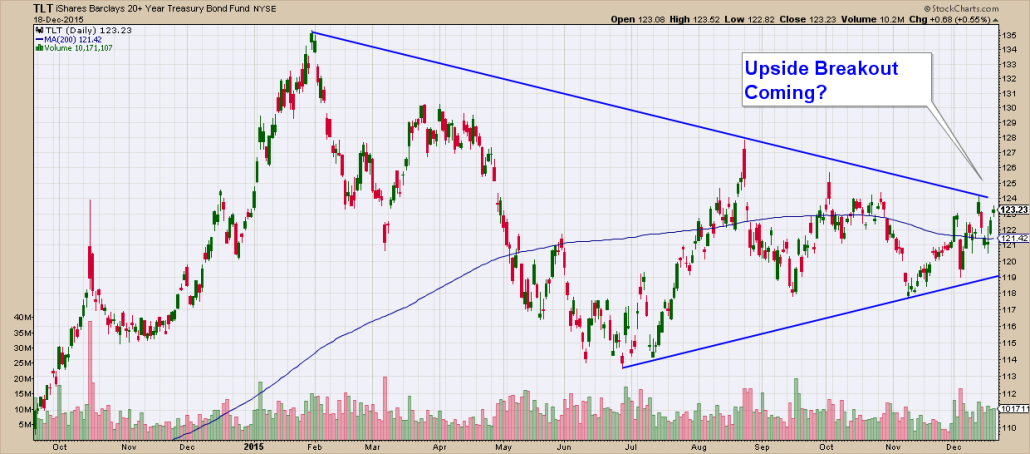 The bottom line is that stock market risk is progressively increasing. I believe that the odds of stocks falling "like a house of cards" is substantial and thus now is the time to protect principal!
Client Update
Aggressive accounts are 100% invested in a Money Market Fund. Conservative accounts are 30% invested in High Yield Municipal Bond Funds and 70% in a Money Market Fund. Now is the time to preserve principal!!!
I will be watching for signals that the market has bottomed. There should be an opportunity to buy stocks at lower prices if they fall excessively or buy a treasury bond ETF if it breaks to the upside.
Craig Thompson, ChFC