Market Update
Dark Clouds On The Horizon Stocks ended the week about where they started, but this does not tell the whole story. Stocks fell hard on Thursday dropping 1.44% on high volume. Then on Friday stocks bounced decisively on even higher volume to make back all that it had lost (the prior day) within the first couple of hours. Friday ended the day up 2.05% on very high volume, but about even for the week.
As I mentioned in my newsletter a couple of weeks ago Click here to view newsletter, I feel that the market is displaying strength in the short-term, but long-term stocks look very vulnerable to a major market decline. My bleak longer-term forecast would change if the market can establish a sustainable advance that would negate the weakness that I am seeing on many of my charts.
So lets take a look at both my short-term charts and then my longer-term charts. First short-term:
The only real positive that I see currently is market action. Stocks have been able to establish a pattern of higher-lows and this is now going to act as support for stocks. On the other hand, there is substantial resistance overhead.
If this market is going to establish strength it can not drop below support. If it does, the odds of stocks falling at least to the lows of August (if not even lower) are extremely high. The coming week(s) are going to be very telling.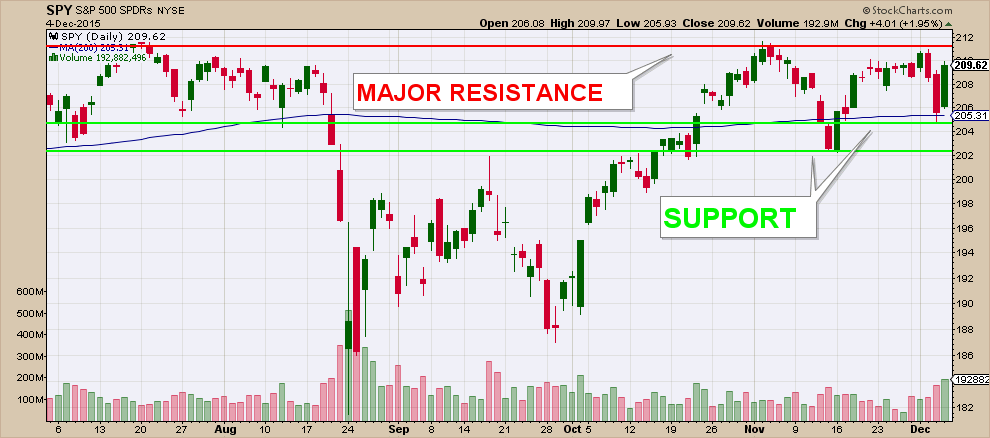 All three market breadth indicators that I have posted in previous newsletters have turn down. This is a red flag and sign of market weakness.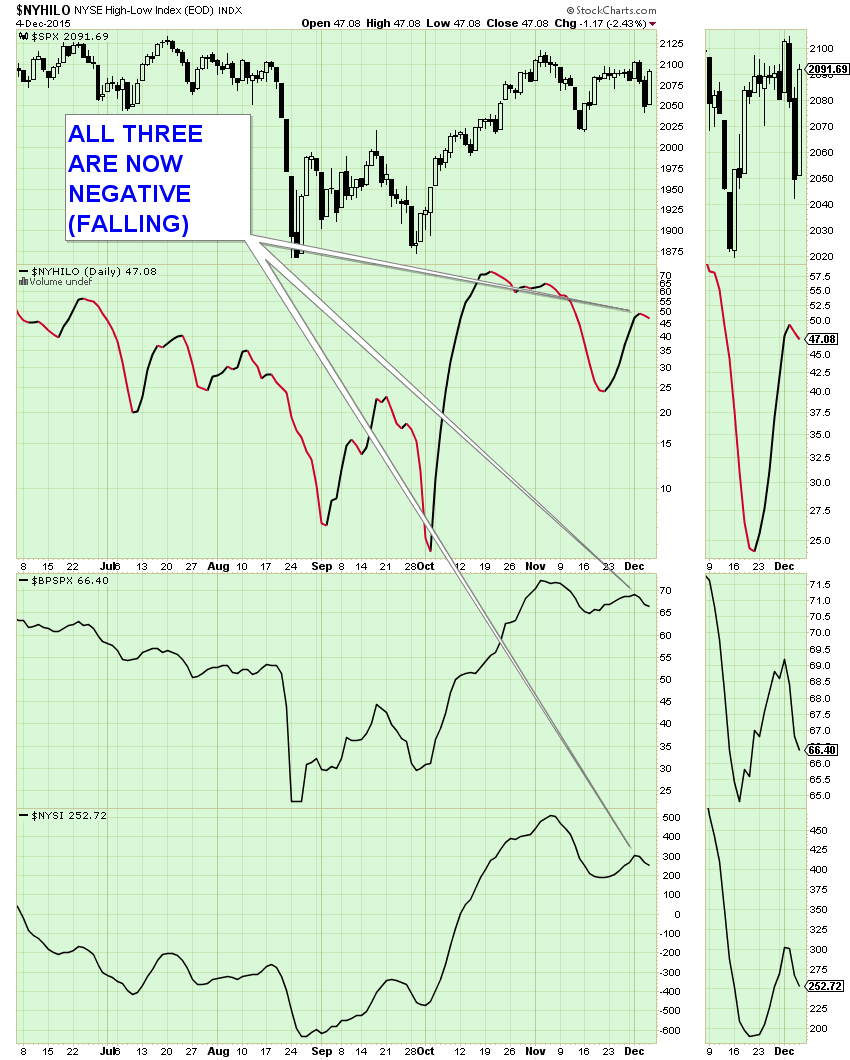 Now lets look at some longer-term charts to illustrate my opinion that there seems to be Dark Clouds On The Horizon.
Below is an area chart of the VIX that encompasses the last bull and bear market (2003 – 2008). As you will notice during the meat of the bull market the VIX would trend down as stocks trended up (no negative divergence). This is a healthy sign that investors are willing to take on risk and that is needed for stocks to continue to advance.
Then at the end of the bull run, the VIX started to diverge from this pattern and began to rise with stocks (negative divergence). This was a result of investors becoming more concerned and buying more downside protection. This pattern can only continue for so long until something has to give. Which is what happened when stocks finally gave in and we entered a bear market that saw stocks fall about 55%.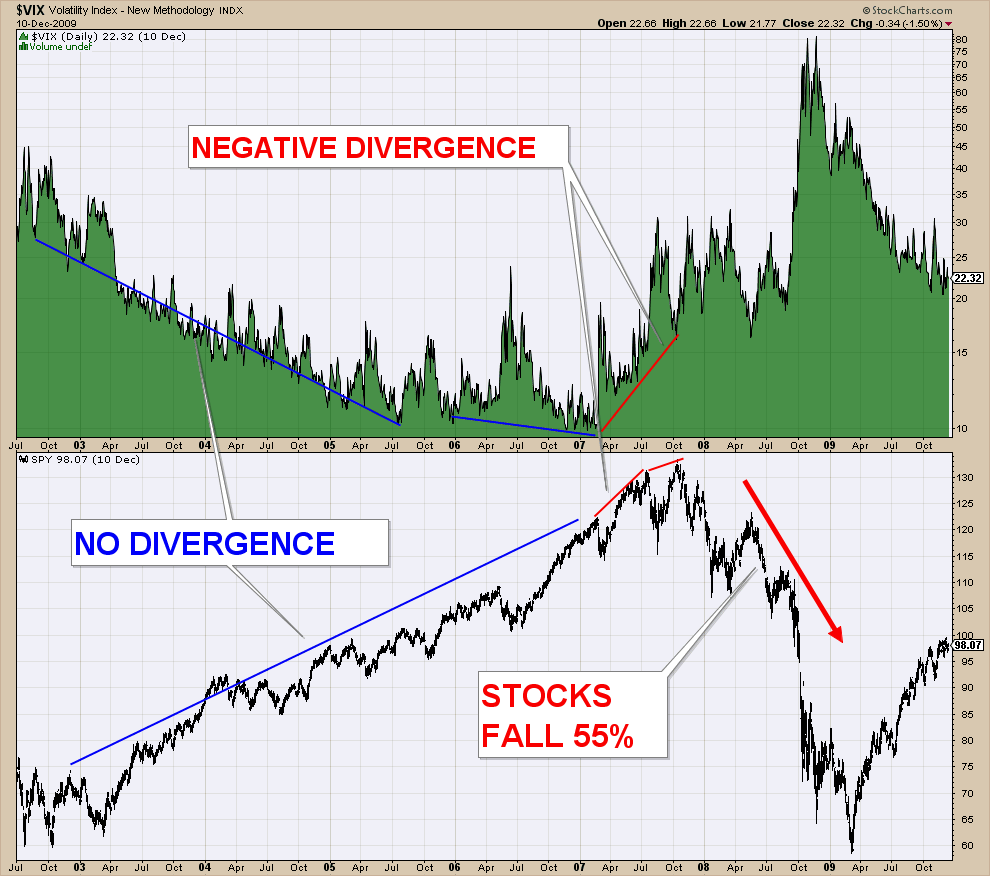 Now lets look at the same chart that encompasses price action over the current bull market (2009 – present). You will notice the same pattern. The VIX is diverging from price action and now trending up as stocks either advance or trend sideways.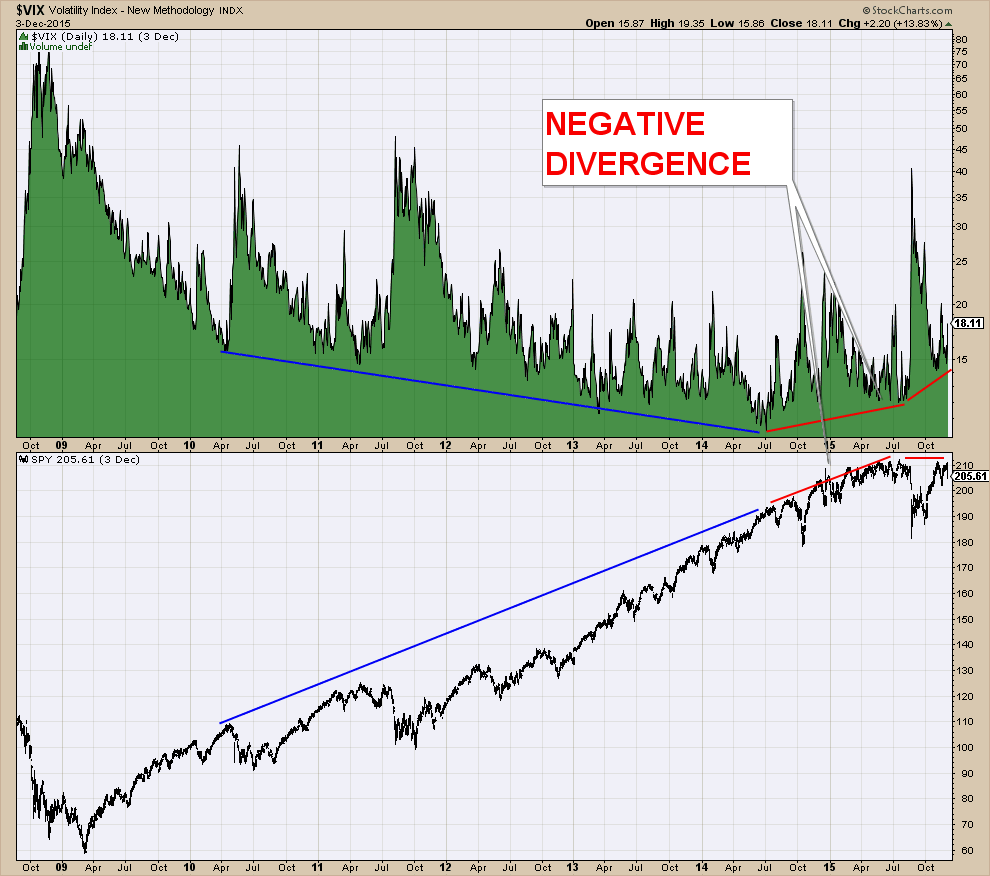 Below is a shorter-term chart of the VIX only encompassing the past 11 months. You can see a wedge pattern has formed with the red line depicting the pattern of higher lows that is so concerning. It is currently sitting right above this red line and under the green line. A decisive move in either direction would be very telling as to what direction that stocks will trend in the coming months.
In summary, now is not the time to be invested in stocks unless you have risk management strategies in place. Downside risk is just too high! This bull market has been showing it's age over the past year.
The opportunity lies in being able to minimize the major losses that typically accompany bear markets. Because if you lose 50% of your retirement saving in the next bear market, you will need a 100% return just to get back to even.
Client Update
All of our accounts are practically fully invested. Aggressive accounts are about 85% allocated in stock funds and our conservative accounts are at 50% stocks and 30% bonds.
I am very concerned that breadth indicators are now trending down. If stocks start the week strong, those indicators will probably turn up. So I will be watching this closely.
While I am still fully invested (mainly because of what I view as positive market action over the past couple of months), my stops are now set pretty tight. If stocks are going to continue to advance, now is the time. They can not drop below recent support.
If stocks fall below support I will move to cash with a strategy of buying back at much lower prices. The best way to make money in the later stages of a bull market is by not losing it!!!