The Bottom Line
Bias:
Long-Term Positive and Short-Term Negative for Stocks.
Positive for Treasury Prices and Other Interest Rate Sensitive Bonds.
Long-term, the stock market looks strong. As long as the S&P 500 does not fall below about 2180 (7.5% below today's close), any weakness in stocks that we see in the coming weeks should be viewed as a buying opportunity once market internals turn positive.
The stock market is in a short-term corrective pullback. Odds favor more stock market weakness in the near-term.
Treasury Yields topped out Mid-December and have been oscillating between support and resistance ever since. If yields fall below support, it would be positive for Treasury prices and other interest rate sensitive bond prices. Any further weakness that we may see in the stock market could be enough to push yields below support as investors move money out of stocks into the relative safety of US Treasuries.
One scenario that could play out in the coming week(s) is another strong leg down in stocks, the VIX rising above current levels (14), Treasury Yields falling below support and Treasury Prices rising as a result.
---
Client Update
Client accounts are about 65% – 80% invested. Accounts are mainly allocated in Preferred Income Funds and Interest Rate Sensitive Bond Funds. We do not currently own any Equities. If Treasury Yields fall below support, I will probably increase our Interest Rate Sensitive Bond Fund allocation.
I am looking to increase market exposure once the stock market bottoms and market internals improve.
---
Market Technicals
Long-Term Price Action
The stock market is in a short-term pullback/correction, within a longer-term uptrend (see chart below). Short-term corrections are healthy, in that they serve the purpose of generating renewed buying interest once they end.
Short-Term Price Action
In the chart below, I am using the S&P 500 ETF (SPY) as a proxy for the stock market. The index has made a series of lower-highs that have formed a trendline that acts as resistance. The 50-Day Simple Moving Average is acting as support, and price is currently sandwiched between support and resistance.
Also notice how declining volume has been much higher than advancing volume, which is bearish.
Given that most market internals are negative, I believe that odds favor more stock market weakness before we see a resumption of the longer-term uptrend. 
Where Stocks Are Likely To Bounce
If we do see a deeper pullback in stocks, there are two support levels that could provide areas for the stock market to bounce and resume its uptrend (see chart below).
The first level is the recent low made during the current short-term correction. A drop to that level would take a drop of about 1.5% in the S&P 500.
The second level of support is about 3.7% below where the S&P 500 closed today. That is an important level, given that it is a Fibonacci Retracement Level, as well as an area of significant support.
If we are in a strong bull market (and I believe we are), then I would expect prices not to fall too much lower than this.

I monitor numerous momentum indicators, and most of them are negative and signaling that short-term momentum is to the downside. For a more detailed explanation view last week's newsletter.
Market Breadth has been negative throughout this short-term pullback and that is still the case. For a more detailed explanation, view last week's newsletter.
As I have mentioned in past newsletters, the VIX has been bouncing around at historically low levels. This suggests that investors are complacent and not worried about risk in the market. While this is not a signal, because the VIX can stay at low levels for extended periods, it is something to watch. It would take a strong advance in the VIX to get a strong thrust down in stocks.
Over the past week the VIX has been moving higher, and now is at 14 – a level that has contained the VIX throughout the current up-leg in stocks.
The VIX may be getting ready to advance above these recent levels, which would be a signal that investors are getting fearful of a stock market correction and more apt to sell their equity holdings. This would be bearish for stocks in the short-term and provide further evidence that stocks are likely to continue to fall.
Treasury Bonds and Other Interest Rate Sensitive Bonds

–

Positive

After advancing strongly, Treasury Yields have trended sideways since December 2016, fluctuating between support and resistance. In the chart below you can see that today's close has the 10-Year Treasury Yield sitting right above support. It would not take much of a drop from here to break below this level.

Given that the next level of support is all the way down at about the 18 level, there is a good amount of upside for bond prices if yields break below support.
---
---
If you have any questions, please feel free to contact me.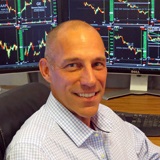 Craig Thompson, ChFC
Email: craig@assetsolutions.info
Phone: 619-709-0066
Asset Solutions Advisory Services, Inc. is a Fee-Only Registered Investment Advisor specializing in helping the needs of retirees, those nearing retirement, and other investors with similar investment goals.
We are an "active" money manager that looks to generate steady long-term returns, while protecting clients from large losses during major market corrections.
---
Asset Solutions is a registered investment adviser.  Information presented is for educational purposes only and does not intend to make an offer or solicitation for the sale or purchase of any specific securities, investments, or investment strategies. Investments involve risk and unless otherwise stated, are not guaranteed. Be sure to first consult with a qualified financial adviser and/or tax professional before implementing any strategy discussed herein. Past performance is not indicative of future performance.