I continue to see mounting evidence of a major shift in long-term market trends, specifically Bond Yields (and thus Bond Prices), and Commodity Prices. Bond Yields have been falling for over 35 years and Commodity prices have been falling for almost 10 years. These trends now look like they are reversing which will have major long-term market implications.
I understand that many people who receive my newsletter just want a summary of what I am seeing and are not interested in viewing a bunch of charts. If this is you, you can toggle below to the section: The Bottom Line. This will give you a summary of what the technicals are suggesting for the bond and stock market.
The Bottom Line
Bias:
Positive for Stocks
Negative for Interest Rate Sensitive Bonds
• Stocks both domestically and internationally are in an uptrend and we are in a bull market.
• When the S&P 500 is hitting all-time highs, international markets are advancing strongly, and market breadth is positive – there is no other way to view the market other than positive!
• I am seeing more evidence of long-term reversals in trend that suggests:
1. Rising stock prices
2. Rising bond yields and thus lower prices for Interest rate sensitive bonds.
3. A falling dollar
4. Rising commodity prices
• The thing to keep in mind is these are long-term trends. Treasury yields have fallen for over 35 years and commodity prices have fallen for about 10 years. If these trends are reversing to the upside, they could have long-term implications.
• October Newsletters addressing the early moves in yields, bonds, and commodities:
Bonds a Ticking Time Bomb I – October 4, 2017
Bonds a Ticking Time Bomb II – October 25, 2017
• Long-term, the weight of the evidence continues to be bullish for stocks. At some point, this will change and when it does, I will have no problem flipping to a bearish bias and reallocating client accounts to a more defensive posture. However, market technicals continue to signal that we are in a bull market and thus we should be invested in stocks aggressively.
---
Client Update
I continue to view stock market risk as low, thus our accounts have high stock market exposure.
I have continued to add to our equity holdings by buying stock funds that have pulled back and are in long-term up-trends.
---
Market Technicals
Below is a long-term chart of the CRB Composite Index (Commodity Index). As you can see, the index has historically bounced off of support (red line) before advancing higher. In 2016 we saw this index drop below support and as a result, what was support turned into resistance. The index is now advancing above this level, suggesting higher commodity prices.

Below is a shorter-term (11 year) chart of the CRB Index. As you can see, it has decisively broken out to the upside. Commodity prices look strong!

In order to better evaluate Commodity prices, let's look at a chart of the dollar. The dollar is inversely correlated with commodities, meaning they usually move in opposite directions. Below I have charted the CRB Index in the upper panel and the dollar in the lower panel. I have inverted the dollar chart so that it matches the commodity chart. As you will notice, the CRB Index has decisively advanced above its downtrend line and the Dollar looks like it getting ready to breakout as well.

Below is a chart of IEF (a 7-10 Year Treasury Bond ETF). It has been falling since September of last year and last week fell through support. As long as we continue to see inflation, which is what rising commodity prices are signaling, odds will continue to favor falling bond prices.

If you are someone who is in or near retirement, you need to review your investments now!! The investments that you think are safe (bonds) could actually end up falling substantially.
Email me to schedule your free, no obligation retirement account allocation review.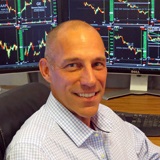 Craig Thompson, ChFC
Email: craig@assetsolutions.info
Phone: 619-709-0066
Asset Solutions Advisory Services, Inc. is a Fee-Only Registered Investment Advisor specializing in helping the needs of retirees, those nearing retirement, and other investors with similar investment goals.
We are an "active" money manager that looks to generate steady long-term returns, while protecting clients from large losses during major market corrections.
---
Asset Solutions is a registered investment adviser.  Information presented is for educational purposes only and does not intend to make an offer or solicitation for the sale or purchase of any specific securities, investments, or investment strategies. Investments involve risk and unless otherwise stated, are not guaranteed. Be sure to first consult with a qualified financial adviser and/or tax professional before implementing any strategy discussed herein. Past performance is not indicative of future performance.