Markets At An Inflection Point
Market Update
In last week's newsletter, we said:
"The descending wedge pattern that formed in the S&P 500 and that we mentioned in last week's newsletter, is still intact. Last week the index bounced off the lower boundary of the triangle (support). This is a bearish pattern and given that market internals are negative; odds favor a drop below support."
Last week the market did break below the lower boundary of the wedge pattern (support). Even with the 2.2% advance we got today, the S&P 500 is still in a downtrend, as can be seen by the lower-highs and lower-lows in the chart below.
Today's stock market bounce formed a short-term bottom at its 200-day moving average. It is also important that stocks bounced right above the 61.8% Fibonacci Retracement Level. A decisive drop below this level (2069 for the S&P 500) would put the longer-term bull market into question.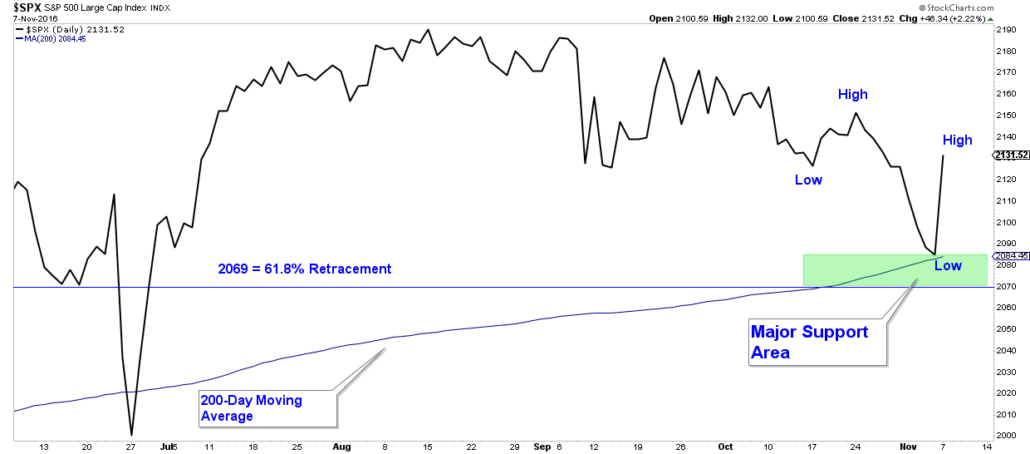 The stock market was oversold and due for a bounce. Below is a chart of a Stochastics Indicator (lower panel) which has done a good job of identifying oversold conditions that produced short-term bottoms. Each time the indicator has fallen to about 20 (highlighted in green), the market has bounced to some degree.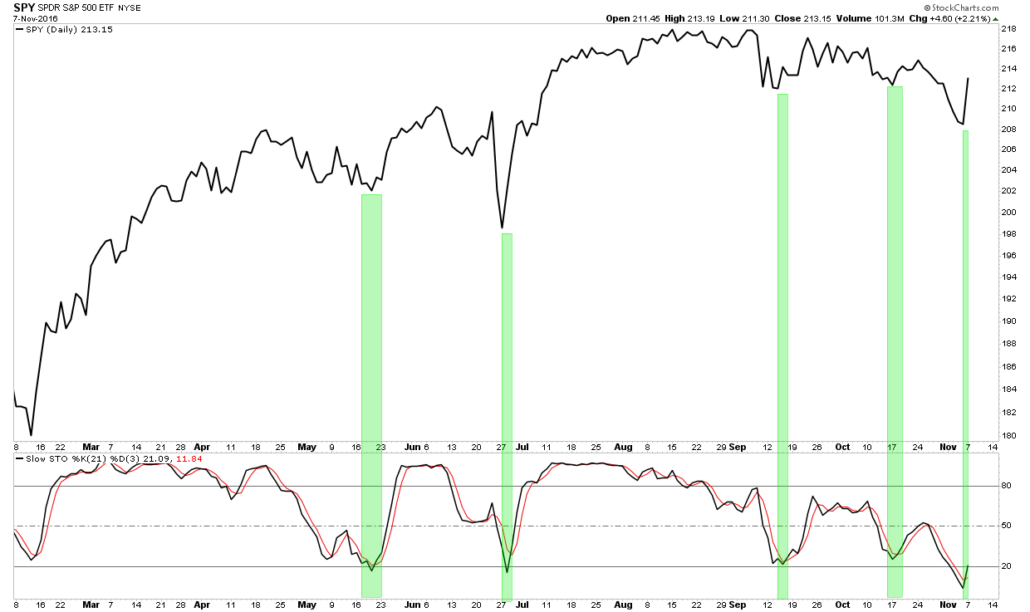 The green highlights in the chart below show that the VIX traded as high as 23.00 on Friday, a level that has previously coincided with or closely led every important bottom in the US broad market index in recent history.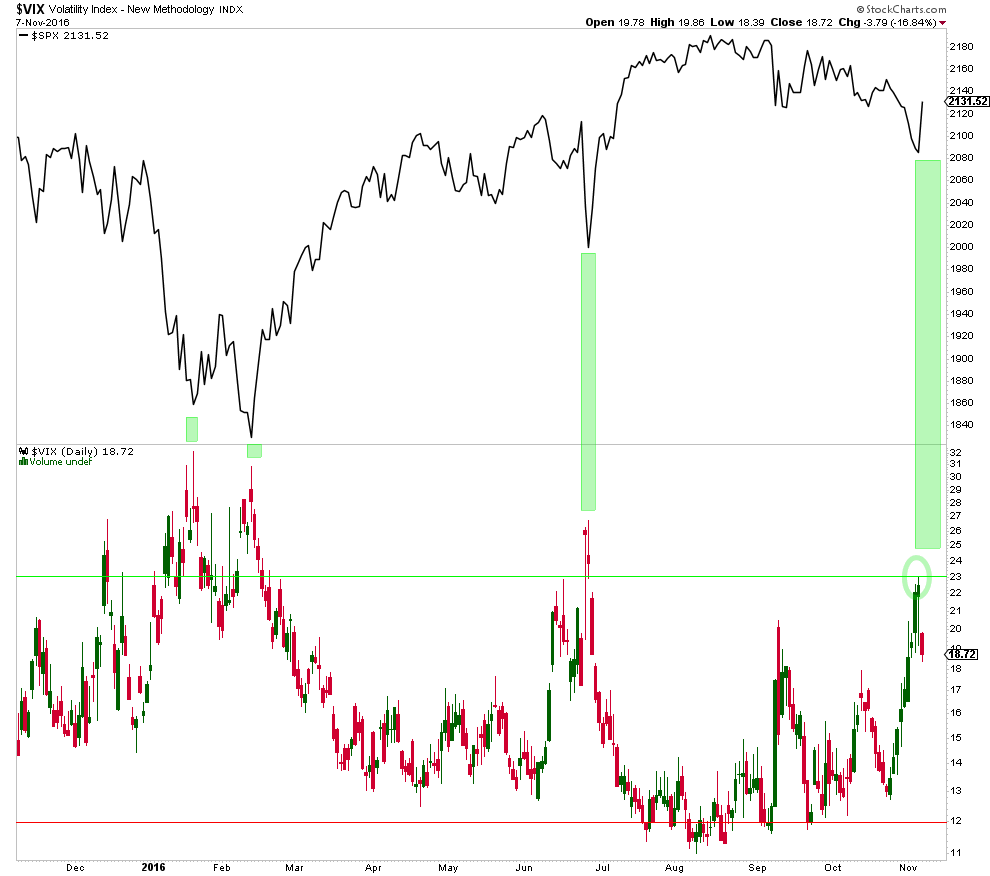 While it is a positive development that stocks bounced at support. I believe it is too early to confidently say the market has formed a longer-term bottom, because of declining market breadth and negative volume based momentum.
Market Breadth is still negative. Below is a chart of the NYSE Summation Index and it is still trending down.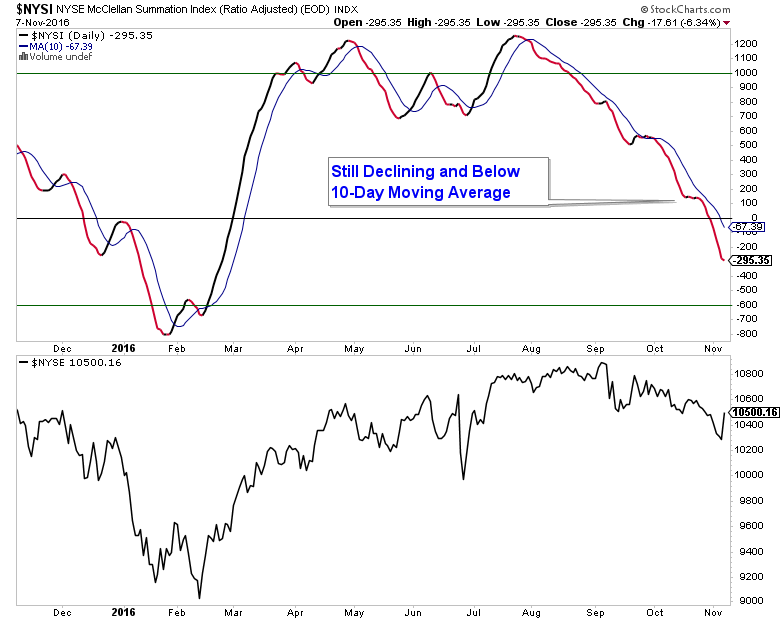 Volume based momentum indicators are still negative, as seen in the On Balance Volume Indicator (middle panel) and Force Index (lower panel).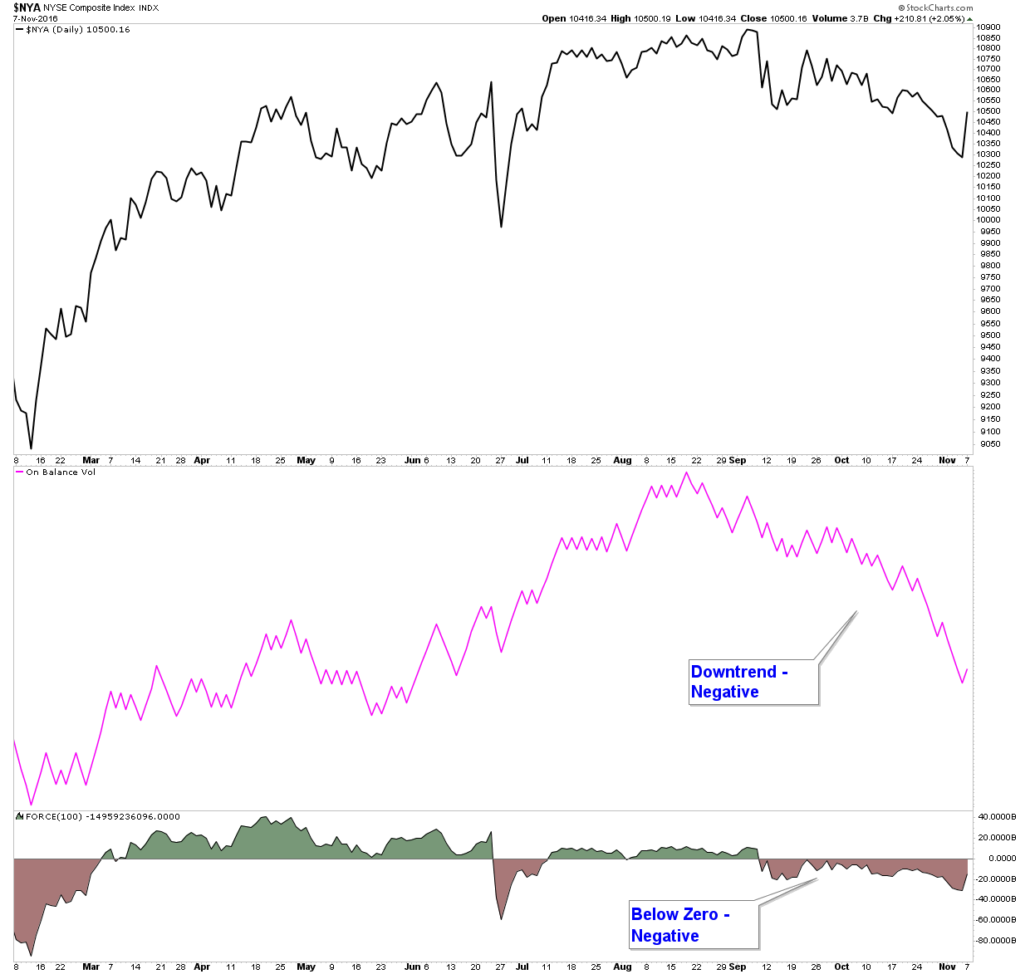 In conclusion, the market did bounce off support and at an area that we would expect it to resume trending higher from, if longer-term market strength is still intact. I am awaiting confirming evidence in market internals, specifically market breadth and volume based momentum indicators, to confirm that the recent stock market pullback is over and the longer-term advance is likely to continue.
The Bottom Line
Short-term stock market risk is currently high. While the market did bounce at support, market breadth is negative and stocks are still in a downtrend. Until Market Breadth Indicators turn positive, odds are elevated that stocks will fall or continue to churn sideways over the near-term.
Bias: Neutral (Short-term negative, long-term positive for stocks.)
Long-term stock market price action is positive and will remain so as long as prices remain above the June 2016 lows.
Market internals suggest a positive environment for stocks over the longer-term.
The short-term market weakness that was signaled by market internals as far back as mid-July has been confirmed. The market is now in the process of correcting/consolidating. Short-term market risk is high.
Client Update
TD Ameritrade client accounts are between 50% to 70% invested in lower volatility funds.
I will be looking to add funds that I have identified as providing attractive risk-adjusted return characteristics once short-term internals turn positive.
---
Romantic Getaway

My wife and I recently took a weekend trip to Palm Springs and we ended up staying at a quaint, romantic place called Korakia Pensione. It is Moroccan/Mediterranean themed and we enjoyed the relaxed feel of the place immensely! If anyone is looking for a Palm Springs getaway, I would highly recommend Korakia Pensione.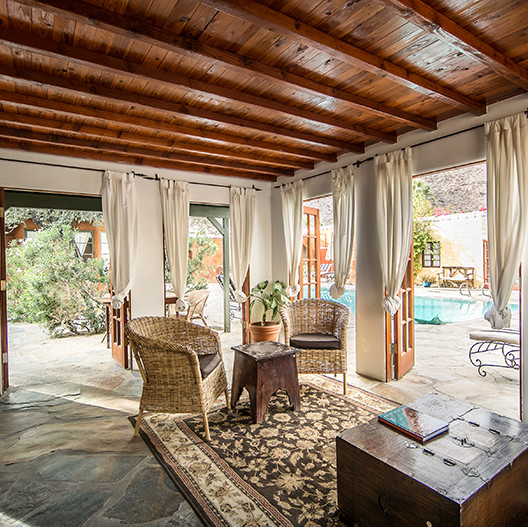 ---
If you have any questions, please feel free to contact me.
---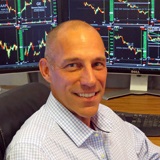 Craig Thompson, ChFC
Email: craig@assetsolutions.info
Phone: 619-709-0066
Asset Solutions Advisory Services, Inc. is a Fee-Only Registered Investment Advisor specializing in helping the needs of retirees, those nearing retirement, and other investors with similar investment goals.
We are an "active" money manager that looks to generate steady long-term returns, while protecting clients from large losses during major market corrections.
---
Asset Solutions is a registered investment adviser.  Information presented is for educational purposes only and does not intend to make an offer or solicitation for the sale or purchase of any specific securities, investments, or investment strategies. Investments involve risk and unless otherwise stated, are not guaranteed. Be sure to first consult with a qualified financial adviser and/or tax professional before implementing any strategy discussed herein. Past performance is not indicative of future performance.