The Bottom Line
Bias:
Long-Term Positive and Short-Term Neutral for Stocks.
The stock market is in a short-term correction within a longer-term uptrend.
Short-term the stock market is correcting and market breadth has deteriorated. The damage has not been substantial enough to call into question our bullish long-term bias..
Long-term stocks are in an uptrend and we are in a bull market.
The summer months are typically bad for stocks, and stocks are correcting over the short-term. This will continue to be something to monitor in the coming weeks.
---
Client Update
I reallocated our client accounts this past week and reduced our equity holdings somewhat. We now have some money sitting in cash that I will look to put to work in the coming week(s). Client accounts are still allocated in Preferred Income Funds, Equities and Money Market Funds.
---
Market Technicals
Stock Market Price Action – Long-Term Positive and
Short-Term Neutral
Long-Term Price Action – Positive
When you step back and look at a 10-year chart of the S&P 500 you will notice that the current pullback in the market is barely noticeable. Long-term the stock market is in an uptrend.
Even on a shorter-term (2 Year) chart, the S&P 500 is in an uptrend. The S&P 500 is trending higher, it's 50-Day Moving Average is above its 200-Day Moving Average, and both those averages are trending higher. In addition, the index hit a fresh 52-week high two weeks ago. Despite recent weakness, we are still in a long-term uptrend.
Short-Term Price Action – Neutral
On a shorter-term perspective, the market is currently correcting. We have seen some deterioration in short-term market internals over the past couple of weeks, such as:
The S&P 500 retraced most of it's previous up-leg.
The S&P 500 has dropped substantially below its 50-Day Moving Average and failed to bounce above it.
The S&P 500 has now fallen below its uptrend line.
 The market is sitting right above major support at about 2400 in the S&P 500. If it falls below this support level, odds are high that it would continue to drop to at least the next level of support at 2353. In summary, short-term the market is correcting. 
Stock Market Breadth –

Long-Term Positive and Short-Term Negative
Market breadth has steadily declined over the past four weeks. Below is a chart of the S&P 500 New Highs-New Lows Percent. As you will notice, over the past month the indicator has been declining which indicates that there are fewer and fewer stocks that are hitting new highs. The bars are now red (below zero) which indicates that there are now more stocks in the S&P 500 hitting new 52-week lows than new 52-week highs.
I like to look at moves above 10 or below -10 as an indication of longer-term market strength or weakness. Notice how the indicator has consistently reached 10+ since February 2016, confirming the uptrend from a market breadth perspective.
If this indicator drops below -10, that would suggest that market breadth has fallen to a level that would put strong downward pressure on stocks and put the longer-term strength of the stock market into question. This will be something to monitor in the coming weeks.
In summary, we are still in a bull market. Current stock market weakness is nothing much to worry about yet. As a risk manager, my number one goal is protecting clients from the large losses that typically occur during major stock/bond market corrections. If the short-term market weakness that we have seen over the past four weeks continues into something more serious, I will reallocate client accounts to a more defensive posture. However, at this point, the weight of the evidence is still bullish for the market.
---
If you have any questions, please feel free to contact me.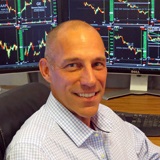 Craig Thompson, ChFC
Email: craig@assetsolutions.info
Phone: 619-709-0066
Asset Solutions Advisory Services, Inc. is a Fee-Only Registered Investment Advisor specializing in helping the needs of retirees, those nearing retirement, and other investors with similar investment goals.
We are an "active" money manager that looks to generate steady long-term returns, while protecting clients from large losses during major market corrections.
---
Asset Solutions is a registered investment adviser.  Information presented is for educational purposes only and does not intend to make an offer or solicitation for the sale or purchase of any specific securities, investments, or investment strategies. Investments involve risk and unless otherwise stated, are not guaranteed. Be sure to first consult with a qualified financial adviser and/or tax professional before implementing any strategy discussed herein. Past performance is not indicative of future performance.