I am going to depart from my normal format since by bias and most of my charts have not changed over the past week. I still have a strong positive bias for the stock market on both a short and long-term basis.
There are some articles popping up online suggesting the stock market is at risk of a major correction because of weak market breadth. Meaning that the stock market is being held up by a select group of sectors or industry groups and that there are many sectors that are not participating in the advance that we are seeing in the S&P 500 and Nasdaq 100. A lack of participation can be a warning that the market is not as healthy as it looks, and if market breadth continues to deteriorate, that it will eventually lead to a stock market correction. While market tops historically do happen progressively as market breadth deteriorates, I don't think that the weight of the evidence suggests that we are seeing the type of decline in breadth that typically warns of an impending market top.
The main argument that they pose is that while major market indexes are hitting all-time highs, Small-Caps, Financials and the Transportation Index are not confirming. They also suggest that it looks like Financials are forming a head-and-shoulders topping pattern.
While it is true that these sectors are languishing while major market indexes are hitting new highs, they are not falling – they are consolidating. In addition, most consolidation patterns tend to resolve in the direction of the underlying trend – which in this case is up.
Below is a chart of IYT (iShares Transportation Index ETF) in the top panel and the S&P 500 in the lower panel. As you will notice, IYT has been consolidating for the past eight months while the S&P 500 has been trending higher; however, IYT is not in a downtrend. In fact, it is near the highs set at the beginning of March and is above its upward sloping 200-day moving average.
Also, if you narrow down and look at the price action of IYT (Transportation) over the past 5 months, you can see that it just broke out of a wedge pattern, to the upside, which is bullish. I feel that odds favor this index moving higher over the near term, not lower.
I can see where people see a head-and-shoulders topping pattern in the Financial Index (see chart below of XLF), however, this pattern is historically very unreliable. In addition, XLF is above its upward sloping 200-day moving average.
Like the Transportation Index, if you narrow down the chart you can see that Financials are in a consolidating wedge pattern. Based upon the weight of the evidence, I feel that odds favor this index also eventually breaking out to the upside.
The sector picture remains unequivocally bullish with six of the nine sector SPDRs hitting new highs this past week (Consumer Discretionary – XLY, Technology – XLK, Industrial's – XLI, Health Care – XLV, Utilities – XLU, Consumer Staples – XLP). Together, these six sectors account for over 70% of the S&P 500. That is Bullish, not Bearish!
Another factor that supports a positive bias toward US Stocks is the strength in Foreign Indexes which are positively correlated with the S&P 500. To name a few, the India Bombay 30 Sensex Index, The French CAC 40 Index, and the German DAX Composite are all at or near fresh highs and in strong uptrends.
There are many more I could name, but instead of showing each chart, just look at the chart below of VEU (an All-World Index ex-US ETF). It is at new highs and in a very strong uptrend. These foreign markets are positively correlated with our market and the fact that they are performing so well is Bullish for the US stock market.
In summary, it is true that some very important sectors are lagging and if they weaken to the point where they roll over into a definitive downtrend, that would be bearish for the overall market. However, based upon the weight of the evidence, the odds seem to favor these lagging sectors strengthening in the coming weeks, not rolling over.
---
Client Update
Client accounts are fully invested and mainly allocated in Preferred Income Funds and Equities.
---
---
If you have any questions, please feel free to contact me.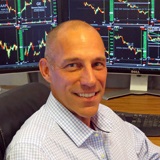 Craig Thompson, ChFC
Email: craig@assetsolutions.info
Phone: 619-709-0066
Asset Solutions Advisory Services, Inc. is a Fee-Only Registered Investment Advisor specializing in helping the needs of retirees, those nearing retirement, and other investors with similar investment goals.
We are an "active" money manager that looks to generate steady long-term returns, while protecting clients from large losses during major market corrections.
---
Asset Solutions is a registered investment adviser.  Information presented is for educational purposes only and does not intend to make an offer or solicitation for the sale or purchase of any specific securities, investments, or investment strategies. Investments involve risk and unless otherwise stated, are not guaranteed. Be sure to first consult with a qualified financial adviser and/or tax professional before implementing any strategy discussed herein. Past performance is not indicative of future performance.